Source: WDRB
By Marcus Green
September 10, 2021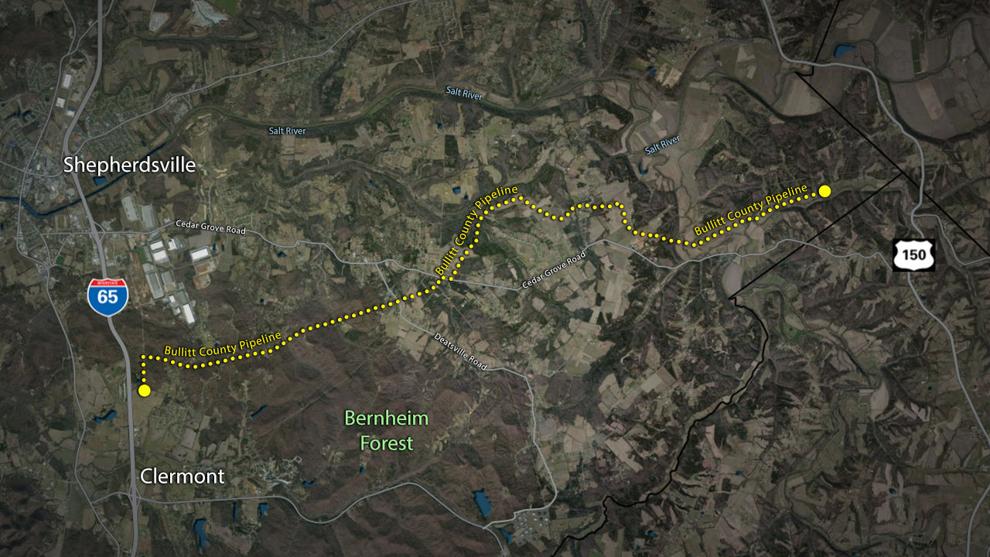 LOUISVILLE, Ky. (WDRB) – Regulators granted a key permit for LG&E's proposed natural gas pipeline in Bullitt County late last month, a move the company says is its last major approval.
The permit from the U.S. Army Corps of Engineers comes as several of the utility's condemnation lawsuits remain unresolved. Those cases involve the last properties – including conservation land owned by Bernheim Arboretum and Research Forest — needed for the 12-mile project estimated to cost $74 million.
But LG&E spokeswoman Natasha Collins said the most recent federal approval "brings us one step closer to moving forward with construction of the pipeline, which will add much-needed capacity to support continued growth and economic development within Bullitt County and the region and enhance reliability for the more than 9,500 customers currently served by the line."
She said the construction schedule depends on resolving the lawsuits, picking a contractor and finalizing other minor permits.
The federal permit would govern the impact on waterways during construction of the transmission line scheduled to run south of Mt. Washington to the Shepherdsville area. LG&E officials say the pipeline would connect to the existing gas system in Bullitt County and provide for a backup supply of gas, as well as serve future industrial customers along Ky. 480 and Ky. 245 near I-65.
LG&E now carries gas to Bullitt County users through a distribution line that serves Mt. Washington, Shepherdsville, Clermont and Lebanon Junction, and Boston in Nelson County.
A group of landowners along the proposed pipeline path has fought the company's effort to take their land through eminent domain, which Kentucky law allows for projects with a public benefit. In May, Bullitt Circuit Judge Rodney Burress ruled that LG&E can condemn the land.
The property owners' attorneys asked Burress to clarify his ruling, saying it didn't address whether the "primary purpose" of the pipeline is to benefit bourbon maker Jim Beam. The distiller has a plant in Clermont in Bullitt County.
Jim Beam's role in LG&E's pipeline plan has been a key part of legal challenges for several years. John Cox, a lawyer representing some property owners, has argued in the ongoing court cases that evidence shows that the utility colluded with Jim Beam, which would receive gas from the new line.
A spokeswoman for Jim Beam parent company Beam Suntory, has previously said the company did not orchestrate the "planning or route" of the proposed pipeline.
In recent court filings, LG&E attorneys said it was "flatly false" to claim Jim Beam would get 100 percent of the gas carried through the line for its first two years, and nearly all the three years after that. Attorneys for the landowners had suggested that in court.
Copyright 2021 WDRB Media. All rights reserved.