Source: WDRB
March 24, 2019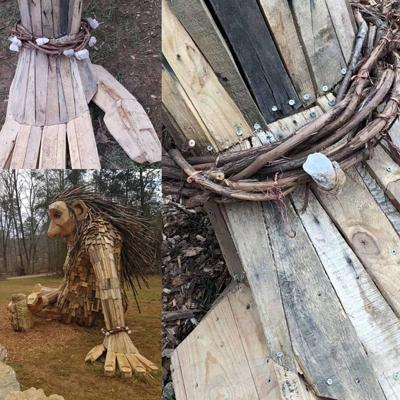 Thomas Dambo, who created the sculptures this month to help celebrate Bernheim's 90th anniversary, had posted a photo on Facebook of one of the giants named Elina, saying the stones on her bracelet had been stolen by "little people," even though she'd only been sitting in the field for five days.
In the post, Dambo said Elina would be happy to have new stones for her bracelet, and as of Saturday night, it appeared she got her wish with a colorful array of new stones.
Many took to the comment section of Dambo's Facebook post to share photos of Elina, including photos of the new stones adorning her bracelet.
Sunday, Dambo posted his own update, saying "hundreds of little people had visited her" with "new beautiful stones" for her bracelet. "Elina has asked me to tell you, that she is very grateful for all the pretty stones," he wrote.
Dambo is an internationally-known Danish artist who has created similar sculptures of giants in other places around the world.