Source: WDRB
By Marcus Green
April 7, 2019
SHEPHERDSVILLE, Ky. (WDRB) – After climbing through dense woods, Colyer Lane dead ends at a grassy flat that overlooks oak, maple and ash trees. Bats roost on the forest's shagbark hickory trees.
Bernheim Arboretum and Research Forest bought this land last year as part of an effort to save more than 1,000 acres near its public forest from development.
Bernheim officials only confirmed their land was in the pipeline's path several months ago after they'd bought the additional acreage, executive director Mark Wourms said. And in February, the nonprofit's board of trustees unanimously voted to oppose the pipeline and refuse to sell an easement for its construction.
Wourms estimates the line would cross about eight acres and disrupt an area Bernheim views as critical to protecting bats and other wildlife.
"It's still incredibly valuable land," he said. "So if we have to put up a little fight, that's going to be worth it."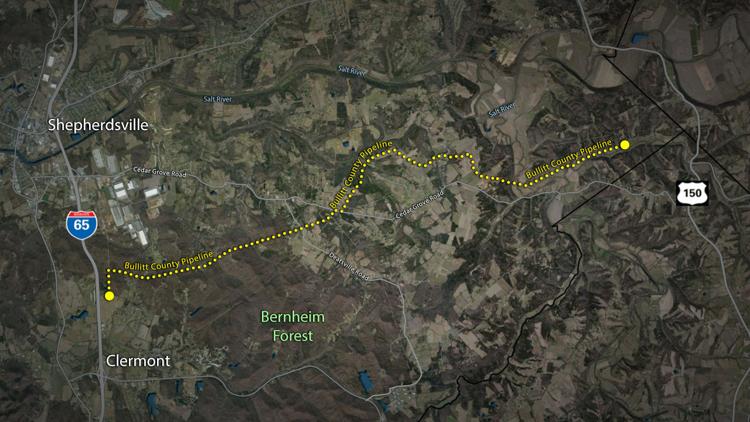 The $39 million pipeline, one of the Louisville utility's largest projects in recent years, would run between south of Mount Washington and Interstate 65, south of Shepherdsville, and eventually connect to existing distribution and transmission lines.
It would cross several creeks south of the Salt River and, at points, parallel existing electrical lines, including on the Bernheim land.
LG&E calls the pipeline a routine "reinforcement" of its service to Bullitt County and a way to eventually serve new homes and businesses in the fast-growing region south of Louisville. Economic development officials argue it's needed to prepare for inevitable business growth in the county.
But some landowners along the route claim the line has been pushed through without proper oversight, public input and environmental scrutiny. Neighbors worry about a high-pressure line close to their homes or cutting off access to farmland.
They also accuse LG&E of keeping key details about the route secret, noting that it asked the Kentucky Public Service Commission for permission in early 2017 to withhold a map and other documents from public view. The commission, the state utility regulator, agreed.
The project has ratcheted up a debate over land use in an area in Bullitt where Kentucky state government already is studying an interstate bypass around Louisville outside the Gene Snyder Freeway.
Work also is underway on a new I-65 interchange not far from the proposed pipeline's western terminus.
LG&E introduced the project in late 2016 and received state approval in June 2017. It still needs several permits, including one from the U.S. Army Corps of Engineers, but it has acquired about 85 percent of the easements needed for construction, or about nine miles of the 12-mile route, LG&E spokeswoman Natasha Collins said.
A construction schedule hasn't been set, but Collins said work would take six to nine months once it begins.
The resolution opposing the pipeline and approved by Bernheim trustees reads, in part: "Bernheim management is to engage legal counsel in order to investigate best strategies for protecting Bernheim's interests and the value of conservation land for the benefit of the environment and the people of Kentucky."
Bernheim has expanded in recent years, adding land outside of its well-known forest off Ky. 245 near Clermont. In 2017, it bought more than 950 acres in its largest expansion to date, then added the 494 acres known as the Cedar Grove Tract last year.
Collins said Bernheim was told in 2017 by the seller of the Cedar Grove land that the property would be part of the route for the pipeline.
Wourms acknowledged there were "rumblings" of a possible pipeline in the area but that forest officials saw no planning documents that identified it. Moreover, he said there was no agreement to run a pipeline through the land, where development is legally prohibited by a conservation easement.
In an interview and emails, Collins said the utility has had "multiple back-and-forth communications" with property owners who have yet to sell easements, including Bernheim.
Asked whether taking land through eminent domain is an option, she said: "I think if we are unable to acquire easements, we would look at all of the legal mechanisms that are available to us."
Not far from Bernheim's tract, Sherry and Keith Hurt agreed to sell an easement to LG&E, accepting an undisclosed amount for the land and the cost of replacing a shed where they keep a band of roaming sheep.
Even so, they're not thrilled with the idea of a pipeline in their backyard, which is split by electrical wires.
"That puts the high-powered gas line 30 feet from my bedroom window and also next to a high-voltage power line," Sherry Hurt said.
She also questions the project's benefits for people whose land is along the route, since they won't be able to get gas from the transmission line. The Hurts use propane gas.
Vanessa Allen, another landowner who has been approached by LG&E, said she won't agree to an easement. She claims the utility's $14,000 easement proposal would essentially "cut us off" from a large tract of land.
"We can't do anything with it," she said. "We didn't expect not to have access to 28 acres if we wanted to develop or sell."
The Hurts and Allen are among a group called Friends of Cedar Grove that has pushed back against the pipeline, arguing in emails and letters to state and federal authorities that deeper analysis of the potential environmental impacts is needed.
The Corps of Engineers has power over ensuring the project has "only minimal impacts" to streams and wetlands on the pipeline route, spokeswoman Katie Newton said in an email. The Corps also works to make sure other state and federal environmental laws, such as the Endangered Species Act and the National Historical Preservation Act, are followed, she said.
"We are currently in the process of this coordination and consultation for this project," she said.
LG&E included the pipeline proposal in a broader request to increase its rates in 2016. For its part, the utility argues that it has taken all of the proper steps, notified landowners when necessary and is seeking the permits it needs.
"We've been very deliberate and wanting to take as much time as necessary to make sure that it's a very thorough process and that's what we've done throughout the whole project so far," spokeswoman Collins said.
Among other concerns, the Friends of Cedar Grove says it asked state utility regulators for a public hearing on the pipeline. Kentucky law allows the Public Service Commission to hold such forums.
In fact, the commission held a public meeting on the rate case in April 2017, followed by a two-day public hearing in May that specifically asked audience members if they wanted to speak, the agency's acting general counsel, J.E.B. Pinney, said in an email.
Pinney said Friends of Cedar Grove didn't request a hearing while the case was open and didn't seek to intervene, which would let it seek a hearing. A final order was issued in June 2017, and the deadline for a review ran out in September of that year.
In addition, he said, the group hasn't filed a formal complaint.
Residents who spoke with WDRB News say they were frustrated about not knowing the overall route of the pipeline. And during early 2017, when landowners could have tried to intervene in the case, LG&E already had asked to keep its route and related maps from public view.
"If the location of the proposed pipeline route was disclosed, the land through which the pipeline crosses may increase in value or landholders may resist construction, forcing LG&E to spend more to construct the pipeline, to the detriment of the Company and its ratepayers," the utility's lawyers argued on Feb. 20, 2017.
Collins said LG&E sought that protection because the route was "preliminary." Documents filed with the state at the time say LG&E had "selected the proposed route," but also indicated that it wasn't yet final.
The Public Service Commission agreed to the privacy request on January 25, 2019. LG&E finalized the route in February of this year, Collins said.
Even today, LG&E hasn't disclosed the full route of the pipeline in any public filing with the utility commission. Public service commission documents are free and viewable on the agency's website.
The U.S. Army Corps of Engineers provided WDRB News with LG&E's application for a permit, which includes the final route, after the station requested it. Collins said LG&E has been providing affected landowners – upon request – with information about that route.
LG&E says the pipeline is needed for several reasons. It would connect to an existing line, allowing for a backup supply of gas to 9,500 customers. And it would prepare for future industrial users along Ky. 480 and Ky. 245 near I-65.
The utility also claimed that a "large existing customer" expects to increase its gas usage "considerably" in the coming years; LG&E declined to identify that customer due to privacy reasons.
John Snider, executive director of the Bullitt County Economic Development Authority, said an existing distribution line that runs along Ky. 44 between Mount Washington and Shepherdsville isn't big enough to handle future growth — a concern Bullitt officials raised with LG&E.
He said gas infrastructure is among the top issues companies ask about when they are considering sites in the county.
"We'll run out of gas sometime in the future," Snider said. "So, consequently, we're going to need additional supply."
Reach reporter Marcus Green at 502-585-0825, mgreen@wdrb.com, on Twitter or on Facebook. Copyright 2019 WDRB Media. All rights reserved.