Source: WDRB
February 14, 2020
LOUISVILLE, Ky. (WDRB) — Love is soaring at Bernheim Forest for a pair of golden eagles.
In a release, Bernheim says eagles Harper and Athena are not only a breeding pair, they are likely new parents. The golden eagles winter at Bernheim, and over the past five years, researchers have tracked Harper, a male who winters in Kentucky. In 2019, Bernheim began tracking Athena, who is Harper's companion.
Both eagles have solar-powered GPS tracking devices researchers use to track their habits and migratory patterns. The golden eagles are the first pair to be tracked in the eastern United States, and experts have been recording their movements for a full year.
Evidence from a year of tracking the birds shows they also spend warm months together in northern Manitoba, and researchers believe the two became parents last summer. The data shows that on April 25, 2019, the two began taking turns keeping the nest warm. Researchers believe an egg hatched in early June, when Athena stayed in the next six days while Harper continued to hunt and return with food.
After spending six months in Canada, the eagles began migrating south in October on separate paths. Each bird traveled 1,700 miles to reunite at Bernheim to spend the winter together.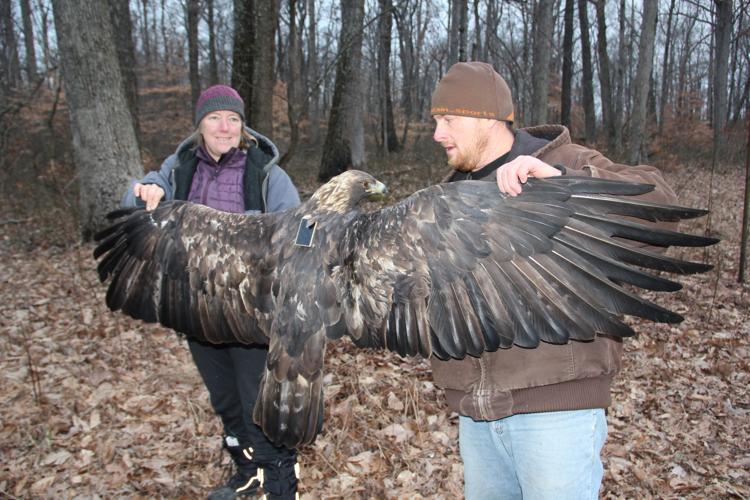 Bernheim Forest is holding a series of events to educate the public about the golden eagles that live in the forest. Bernheim's Eagle Week runs from Feb. 17 – 21, and features a number of eagle-related events including The Golden Eagle Lecture on Friday, Feb. 21, from 12 to 1:30 p.m. Bernheim will host a brown-bag lunch lecture on all things golden eagle at the Visitor Center. No registration is necessary and seating will be available on a first come, first served basis.
Bernheim is in Clermont, Ky., about 20 minutes south of the Louisville airport. From I-65 take exit 112 and follow the signs. Visit Bernheim.org for more information.