Source: Murray Ledger & Times
By Jordan Ferguson
May 31, 2019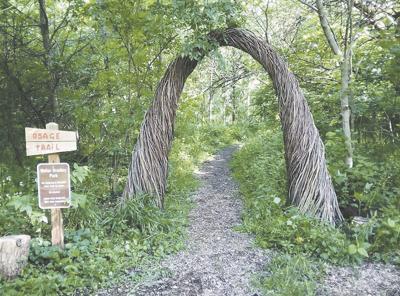 MURRAY — Murray artist Justin Roberts will be joining two other artists as the 2019 Artists in Residence at Bernheim Arboretum and Research Forest in Clemont, Kentucky. 
Roberts is a Kentucky Crafted Artist from Murray, specializing in the rare folk art of bent-wood willow furniture. Roberts plans to create a conceptual, environmentally sound, social, eco-land-art installation made from bent willow branches that connects its audience with the natural world through an interactive and multi-sensory experience.
The installation at Bernheim will be one of two "Sounds of a Whippoorwill" installations Roberts will be erecting in the coming months. The other of those installations will be at the Josephine Sculpture Park in Frankfort. 
Roberts said both installations are meant to bring awareness to the eastern whip-poor-will, whose environment is continually encroached upon by invasive plant species. Roberts said he plans to incorporate those plant species into his installation.
"We came up with this theme called 'Sounds of a Whippoorwill,' to bring humans to nature and raise awareness about this bird and its decline," Roberts said. "We will be using primarily invasive plant species and will wrap that with a renewable plant like willow." 
Another interesting part of the installation is that it will be utilizing community volunteers. 
"They are lining up a volunteer base where we will be orchestrating about four to five people in two shifts a day for three weeks," Roberts said. "This piece is like a series of arches that bob and weave in and out of the ground." 
Roberts said the installation was a way to try and visualize the songs sung by the whip-poor-will, a bird that is nocturnal. 
"Typically, you only hear a whip-poor-will; you rarely ever see one because it is a nocturnal bird and is on a 75% decline," Roberts said. "So this is a way to visualize that." 
Roberts said plants such as honeysuckle or privet would be used to weave these arches, as those plant species are the ones threatening the whip-poor-will habitat. 
"These birds lay their eggs along wood lines, and that is where a lot of these invasive plants do most of their growing, and that is what is harming the bird's habitat," Roberts said. 
Roberts has been working with bent-wood willow furniture for about seven years, after picking up the craft from fellow woodworker George Beard. He said the interest in the art form stemmed from "The Botany of Desire," written by Michael Pollan.
Roberts said that got him interested in making his daughter's Easter baskets. 
"That got me interested in making my daughter's Easter baskets, and stepping outside of the throwaway culture," he said. "So I started making those for her out of willow saplings, and after Easter we would plant the basket and turn it into a tree. And from there, it was just following these serendipity moments, and the next thing you know I am playing with sticks for a living." 
Roberts said he was honored to be able to partake in the artist residency. 
"It is a huge honor, The Bernheim is an amazing place," he said. "We are extremely excited and we get to take the whole family." 
Roberts said that he hopes those who visit both installations in the summer months will reflect on what it means for people to live in harmony with nature. 
"I hope people see the importance of living in harmony with nature," Roberts said. "I think that is what it is all about…the importance of native plants versus invasive ones and how it helps or harms biodiversity."