Source: WDRB
By Marcus Green
July 31, 2019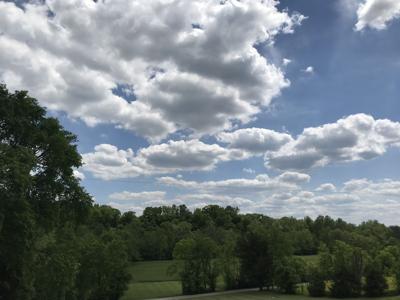 Court records show the utility filed nine condemnation lawsuits in Bullitt Circuit Court on Tuesday, and LG&E confirmed it took more legal action Wednesday afternoon.
LG&E previously sent residents letters
threatening legal action
 if it couldn't reach deals to buy easements by the end of the month.
Paul Thompson, CEO of LG&E and Kentucky Utilities, declined to comment in detail Wednesday.
"We're following our processes that we normally do for putting infrastructure in that needs to be there from a customer demand point of view. So, I'll let that court process, if that's what it needs to be, to have easements–we'll let that carry forward."
The Louisville-based utility views the filings as an "effort to move the project forward," spokeswoman Natasha Collins said. She said the company has been thoughtful and tried to work with landowners who have refused to grant easements.
But several property owners who were named in the lawsuits disagree.
Kimberly Rummage, whose fifth-generation family farm in eastern Bullitt County is on the pipeline route, said she was "disheartened" that LG&E hasn't considered a path that didn't impact her property.
Another landowner, Kimberly Brown, said LG&E is filing the lawsuits even before it has secured a key permit from the U.S. Army Corps of Engineers.
"I really think this is just a way to bully us and to see if there's any low-hanging fruit, to see if anybody will cave and crumble and just take the offer and move on," she said.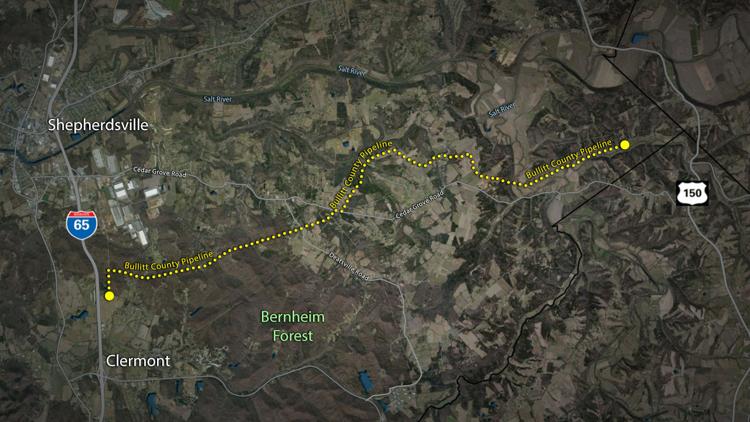 LG&E, a publicly-regulated, for-profit company, has acquired about 85 percent of the land for the line that would run between south of Mount Washington and Interstate 65, south of Shepherdsville. It would create a backup supply of gas to 9,500 customers, LG&E has argued, while also aid future industrial users along Ky. 480 and Ky. 245 near I-65.
The route slices through a nearly 500-acre area that Bernheim Arboretum and Research Forest has assembled for a conservation corridor. The forest has a conservation easement and deed restrictions on that land.
The lawsuit seeking to condemn the Bernheim land comes the same day that forest officials launched a series of public awareness events called "Bernheim Under Threat." They are asking people to urge LG&E to pursue another route.
Bernheim's executive director, Dr. Mark Wourms, said the forest would contest an eminent domain lawsuit.
"Bernheim's going to fight it. We have lawyers working with us. We have certain strategies we're looking at. It would be an uphill battle," he said. "But, you know, there's that old story about David and Goliath, I believe."
Pipeline opponents who don't want a high-pressure pipeline on their land have questioned how the route was chosen and criticized a process that let LG&E avoid public notice requirements that are common for other large projects. In some cases, residents didn't know about the line until state regulators approved it.
Also named as defendants in several lawsuits is the East Kentucky Power Cooperative Inc., which has easements in Bullitt County for electrical lines. A spokesman said Wednesday morning he wasn't aware of the lawsuit.
Salt River Electric Cooperative, a nonprofit, member-owned utility, also was sued in one lawsuit. It hasn't responded to a request for comment.
Kentucky law gives LG&E the right to condemn land for gas lines that are deemed to be in "public service."
But it's not a step LG&E routinely takes, according to the company and a WDRB News review of eminent domain lawsuits. LG&E says it does not know how many such actions it has taken in the past, but before Tuesday there was just one comparable lawsuit making its way through the courts.
In that case, LG&E sued a property owner on Aiken Road in eastern Jefferson County last year seeking to acquire two 30-foot easements totaling just under an acre. The company claimed in a March 2018 filing in Jefferson Circuit Court that it had been unable to reach a deal since September 2017.
A three-person panel awarded the property owner $45,000 based on what they considered to be the fair market value of the land.
The owner disagreed with LG&E's claim it had "attempted in good faith" to acquire the easements and said in court documents that the compensation awarded by the panel was "inadequate and not fair and reasonable for the property interests taken."
In addition, she said LG&E "has not established a public use for the private property" and argued in court documents that the utility failed to consider alternatives that would have been less disruptive to her land.
Collins, the LG&E spokeswoman, said last week that the company acquired 45 of 46 easements through negotiations for the project, which would install a roughly 3-mile, high-pressure distribution line in the area. The goal, she said in an email, is to "reinforce the system in this area and continue reliably serving our existing customers as well as to support additional growth in this area."
LG&E argued in the lawsuit that the project does meet the state definition of a "public use." It also claims it negotiated in good faith before making a final offer of $20,000
That case is at the Kentucky Court of Appeals.