Source: WDRB
By Valerie Chinn
July 3, 2019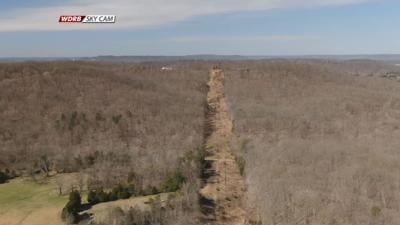 But LG&E said it's going to take it anyway.
LG&E revealed Tuesday night that is now "initiating condemnation proceedings" using "eminent domain" to acquire land needed for its Bullitt County natural gas pipeline.
Property owners would be paid for it, even if they object to the project.
"Unfortunately, I'm not surprised by the tactics," said Mark Wourms director of Bernheim Forest. "The tactics are very secretive. They are done in a way they can move as quickly as they want to. They think they control all the cards in these kinds of things."
LG&E expects the 12-mile pipeline through Bullitt County will cost $39 million. The utility says it is needed because the county's existing natural gas distribution line is nearing full capacity.
"We took our time with this project, like we do others, and have been thoughtful in working through the entire process, and that includes the selection of the route," LG&E Spokeswoman Natasha Collins said. "It was chosen because it's the least-impactful route."
LG&E has already acquired 85% of the property it needs, but Bernheim Forest and some property owners are holding out. Bernheim said rare snails were recently discovered on its land.
"These are not creatures we want to just willy-nilly run a pipeline through and say, 'Oh well. They're gone,'" Wourms said.
The fight over whether LG&E can take the land despite the owners' wishes will now play out in court and could take months, possibly years.
"We have talked to our legal counsel and will start taking our steps in defense," Wourms said.
If LG&E does win in court and gets all the necessary permits, construction would only take 6-9 months.
"We know this is a something that's a passionate issue, not an easy process to go through," Collins said. "It's ultimately something that we wish we can reach negotiation with property owners."
Bernheim Forest is also launching its public campaign saying it'll win in the court of public opinion.