Source: WHAS11
Updated: March 17, 2019
CLERMONT, Ky. — Giants have invaded Bernheim Forest.
In conjunction with the forest's 90th Anniversary, Danish artist Thomas Dambo created a brand new installation, "Forest Giants in a Giant Forest." The installation consists of three structures throughout Bernheim's arboretum built using recycled wood from the region.
Dambo wrote a "fairytale" for the giants called "While the Weather Got Better". The poem provides a backstory for the new "family" living in Bernheim.
The "mother giant", known as Mama Loumari, is expecting a new baby and rests against a tree in the Bernheim Forest. Her two children, Little Nis and Little Elina, take their time exploring the forest's pools and rocks.
In the fairytale, the patriarch of the family is Isak Heartstone, another one of Dambo's sculptures. Heartstone was originally placed in Breckenridge, CO but was eventually removed after the community complained about the mass of visitors flocking to see it.
"His two beautiful children, little Elina and Nis/ And their mama Loumari, a hug and a kiss/ They spend the winter together while the weather got better/ Elina looked at the sky, from the sky fell a feather," The poem says.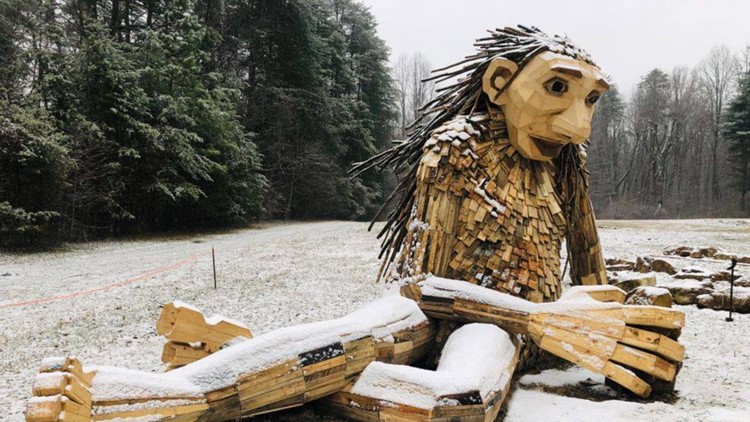 Thomas Dambo
That feather, according to Dambo, is a sign of "good luck" and "a fertile forest" – good signs for the little baby boy that Mama Loumari is expecting.
When winter ends, Heartstone must head back to the mountains, so he bids farewell to his family in the forest.
"I will be back again soon, he yelled, walking the prairie."
Bernheim's Forest Giants are expected to remain in place for at least 3 years.
Thomas Dambo, based out of Copenhagen, was inspired by the "potential in all the stuff that people threw out" while he was growing up. After attending a design school, he began constructing unique sculptures from recycled materials.
His art has been featured all over the world. He has created dozens of "forest trolls", hundreds of birdhouses, and what he calls "Happy Walls", installations of colored wooden blocks that can be customized to create all kinds of murals.
He also has several design projects, including furniture and interior design, that are primarily made with recycled materials
One of his works from 2018, Leo the Enlightened, is hidden within the Smoky Mountains of Tennessee.
According to Dambo, Leo was built using scrap wood, and his necklace was made from lumps of sick trees.
RELATED: There's a giant troll sculpture hidden in the Smoky Mountains
Dambo documents each of his projects through YouTube videos and social media posts. He also has several galleries of his work on his website.
Full Text of "While the Weather Got Better" by Thomas Dambo:
It was a cold winter, but the snow felt warm
He woke up with eyes closed and heard himself yawn
His name was Isak Heartstone, on mountain top of them all
A name they gave him as small, now he was 36 feet tall
Still a young giant, only 700,051 years
Already a father to two, full of eyes, full of tears
Full of love he was, but felt alone on the mountain
He walked down to the forest, in the forest he found them
His two beautiful children, little Elina and Nis
And their mama Loumari, a hug and a kiss
They spend the winter together while the weather got better
Elina looked at the sky, from the sky fell a feather
It was a sign of good luck, and a fertile forest
Where every being had a place from the smallest to tallest
They made a circle of life, they would soon have a brother
It's good luck for a baby, when it sleeps in the mother
Some of wood, some of stone, some of sun, some of seeds
Some of quarts, some of leaves and what fell from the trees
A dragon skull he found 200,000 years ago
It was a symbol of strength, so the baby would grow
But now the ice was melted and Isak looked to the mountain
He knew he had to go back and put his big arms around them
A hug and a kiss, Nis, Elina, Loumari
I will be back again soon, he yelled, walking the prairie