Source: WDRB
October 23, 2019
Marcus Green
LOUISVILLE, Ky. (WDRB) — Kentucky continues to study routes for a possible highway bypass around Louisville, but none would cross land owned by Bernheim Arboretum and Research Forest, Gov. Matt Bevin said Wednesday.
Bevin and the Kentucky Transportation Cabinet said in a news release that Bernheim property won't be considered "due to initial screening and environmental concerns."
Bernheim officials have highlighted the potential road construction as one of two threats to conservation land it owns north of its public forest off KY 245 in Clermont. The other is a Louisville Gas & Electric Co. natural gas pipeline being planned through the area.
Forest leaders said they "applaud" the move.
"We are thrilled that the decision was made to protect a large forest that provides clean air and water for our region, habitat for several rare species and serves as a crucial corridor to allow wildlife to move safely," Bernheim said in a statement.
"We are hopeful that moving forward, the study will find that the best solution is to improve existing infrastructure, further limiting the environmental impact of the Regional Connector," the statement said. "We encourage LG&E to follow this action and to also protect this critical conservation land from the proposed pipeline.
In June, transportation planners identified 15 potential routes for the "65 – 71 Regional Connector," which seeks to link Interstate 71 and Interstate 65 through counties east and south of Louisville. Maps showed 12 entirely new roads through seven counties and three routes that would expand existing roads, including KY 44 in Bullitt County and KY 53 and KY 55 in Shelby County.
The routes included conservation land Bernheim purchased last year – 500 acres home to endangered bats, Kentucky glade cress and the imperiled bluff vertigo snail.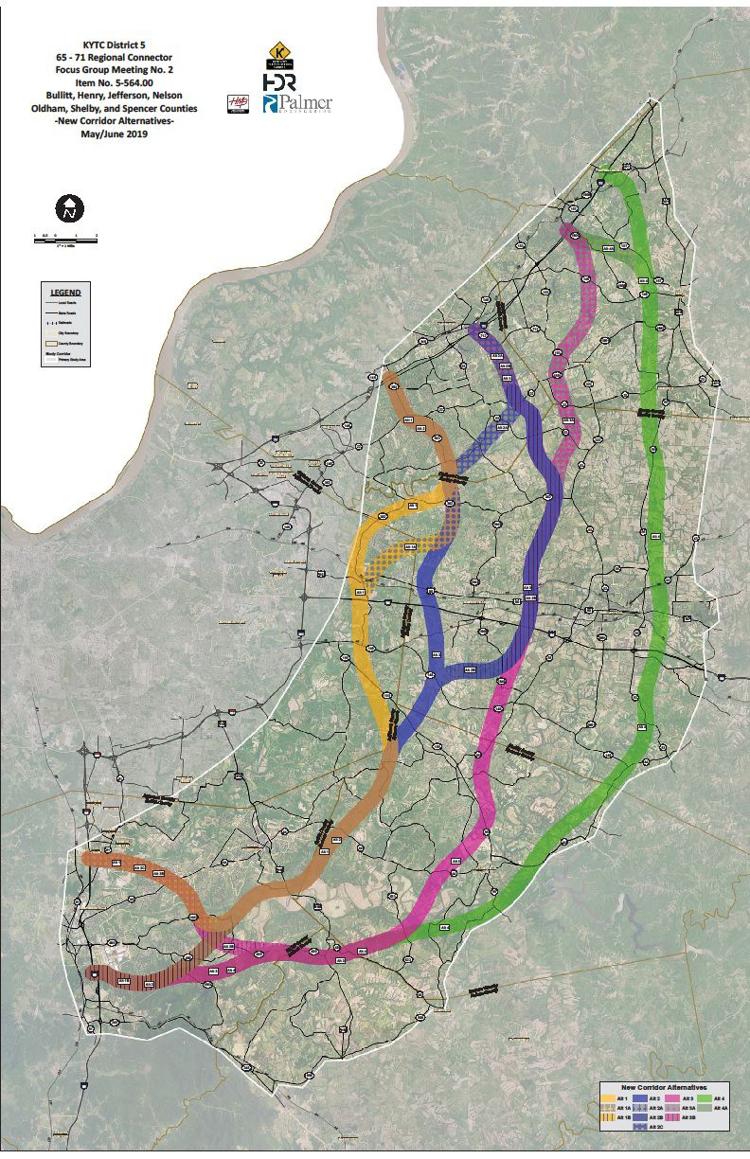 But the Kentucky Transportation Cabinet wasn't aware that the land was Bernheim's when it began taking input from focus groups in early 2019, the news release said.
"We have several viable options for this important project that will not impact conservation land owned by Bernheim Arboretum and Research Forest," Bevin said in a statement, adding that state officials are working to "ensure we select the best possible route for the connector without affecting the conservation land."
The concept of a third bypass around Louisville – dubbed "another Gene Snyder" – has riled up some residents and community leaders who are concerned about the impact on mostly rural areas. Bernheim Arboretum and Research Forest's executive director, Mark Wourms, called the project
"downright scary"
 and "another level of threat to Bernheim."
The project is one of Kentucky's top priorities for the upcoming legislative session.
Working with consultants, state officials have been getting feedback from five focus groups made up of elected leaders, planning and zoning administrators, economic developers and others who represent the counties that could be affected – Bullitt, Henry, Jefferson, Nelson, Oldham, Spencer and Shelby.
The $1.9 million report, which the Kentucky General Assembly authorized in 2018, is scheduled to finish later this year.
Officials have cautioned that the study will identify broad corridors for a potential bypass, but that no decision has been made on whether to build one at all. That decision would require state funding, environmental approvals and a process involving the public.
Reach reporter Marcus Green at 502-585-0825, mgreen@wdrb.com, on Twitter or on Facebook. Copyright 2019 WDRB Media. All rights reserved.