Source: WDRB
December 5, 2019
Dalton Godbey
CLERMONT, Ky. (WDRB) — Two golden eagles are soaring around Bernheim Forest after migrating nearly 1,700 miles from Canada.
The two birds, named Harper and Athena, departed northern territory in late October and arrived in Bernhein Forest just more than a week apart in November after taking separate routes.
"(Harper) took off through Indiana and Illinois and on through Minnesota," said Andrew Berry, Bernheim's director of conservation. "(Athena) headed up through Indiana and then into Michigan."
Bernheim is their destination every year, and researchers are now tracking the birds. They've even named the companions.
Harper, the male bird, has been tracked for several years now. He comes to Bernheim in November and heads back to Canada in March.
A few years ago, researchers noticed he had a companion. They caught the female eagle and named her Athena. She's been tracked since her departure last spring.
Since tracking both birds, researchers have been able to learn more about the rare species and are continuing to do so.
The most fascinating thing, Berry said, is to see how the birds can be separated for nearly 1,700 miles and find their way back to each other.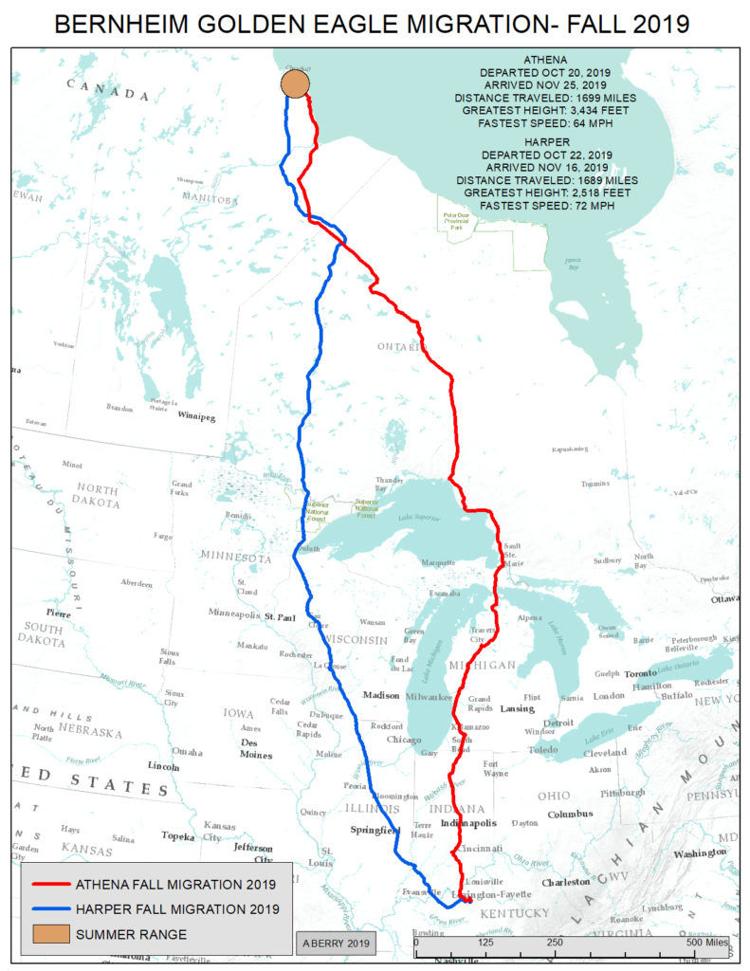 That's what happened last month, Berry said. Athena arrived several days after her companion Harper, but the two were able to reunite less than 24 hours later.
"They've been together ever since," he said.
The birds are part of a small population of golden eagles in the commonwealth. It's estimated there are about 3,000 total.
There are also other golden eagles at Bernheim, but they haven't been caught and tracked.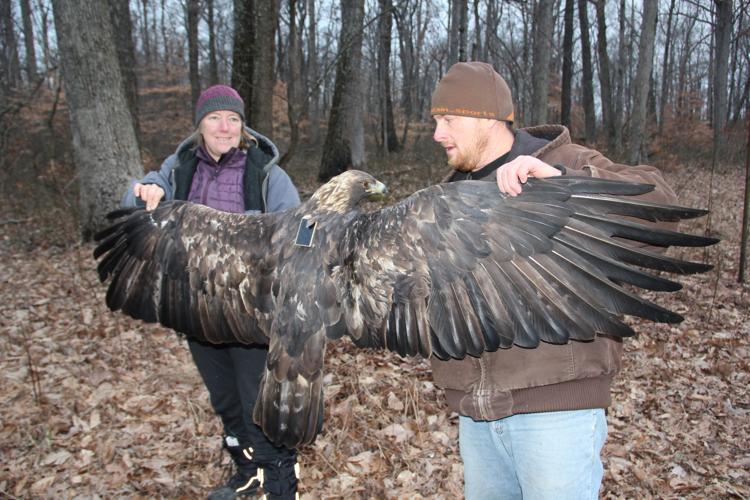 They'll all depart around March to head back to their summer home in Canada.
The two love birds are another fascinating element of a a forest that is booming with visitors.
"It's part of that story of what makes Bernheim so unique and makes it so special, not just for the people that live around Louisville but for the wildlife," Berry said.
Copyright 2019 WDRB Media. All Rights Reserved.