Source: WDRB
August 8, 2019
By Marcus Green
LOUISVILLE, Ky. (WDRB) – Kentucky utility regulators "acted unlawfully" in granting Louisville Gas & Electric Co. a key approval for a natural gas pipeline in Bullitt County, Bernheim Arboretum and Research Forest alleges in a formal complaint.
Bernheim, which owns land that LG&E is trying to condemn for the transmission pipeline, also claims the Louisville-based utility failed to follow state law and regulations because it did not apply for the approval, called a "certificate of public convenience and necessity."
Requiring LG&E to apply for that "would have allowed for public notice and an opportunity to be heard regarding the necessity for and routing of such a pipeline," Bernheim attorneys argued in the complaint received by the Public Service Commission on August 2.
The complaint comes days after LG&E filed a condemnation lawsuit against the forest organization in Bullitt Circuit Court. The pipeline would cross a nearly 500-acre area Bernheim purchased to conserve land.
LG&E also has sued other property owners who have refused to sell easements for the high-pressure gas line. Kentucky law allows LG&E to condemn land for gas lines that are deemed to be in "public service."
A group of neighbors who oppose the line have raised concerns that include a process that left some of them unaware of the proposal until after it had been approved. After WDRB News reported in May that Kentucky doesn't mandate public notice requirements for large underground pipelines, a state lawmaker from Bullitt County said he would file a bill to change that.
LG&E disclosed first disclosed plans for the 12-mile, $39 million project in a 2016 application to the Public Service Commission as part of unrelated rate case. The line's first mention comes hundreds of pages into a detailed 1,776-page filing.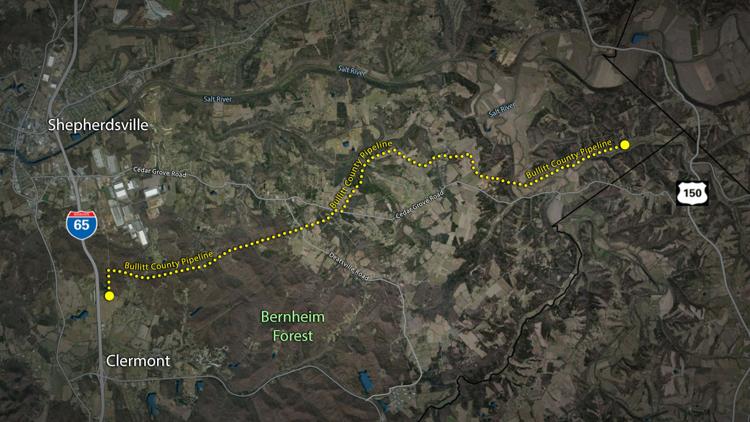 The utility argued that it didn't need to apply for a public convenience certificate – which the state requires for large capital projects — because the pipeline simply is an "ordinary extension" of its business. The commission disagreed, saying a certificate in fact was needed.
But instead of forcing LG&E to start over and apply for a certificate in a new, separate case about the pipeline, regulators decided to approve a certificate for the project because the utility met the requirements for it.
Bernheim's attorneys claim in the complaint that the commission "acted unlawfully and outside of its statutory authority" and violated the forest's constitutionally-protected due process rights.
They also say LG&E hasn't shown why the pipeline is needed; the utility has claimed the line is needed to back up an existing pipeline and eventually provide new service in the county.
Andrew Melnykovych, a Public Service Commission spokesman, said in a statement that the agency stands by its order in the case.
LG&E spokesman Daniel Lowry reiterated in an interview that the utility was granted the certificate as part of a "fully open and transparent process."
The complaint asks the commission to void the certificate it previously granted and order that LG&E must apply for a certificate for the Bullitt County line.
Reach reporter Marcus Green at 502-585-0825, mgreen@wdrb.com, on Twitter or on Facebook. Copyright 2019 WDRB Media. All rights reserved.